Description
The legend continues! Turbosmart's VeePort Pro is an evolution of the original VeePort, now 20% smaller and 33% lighter. Based on Turbosmart's BOV5 architecture, the VeePort Pro offers huge performance with a small footprint. Built on our Motorsport Proven Boost-Balance system using a 38mm piston, this valve can easily flow around 600HP when required and hold down as much boost as you'll ever be able to throw at it.
Features

Billet Aluminium Construction
38mm Hard Anodized Aluminium Piston
Australian Made & Hand Assembled & Tested
Boost-Balance Technology with Positive Seal O Ring
Aluminium V-Band Fitment
360-degree Swivel / Banjo for Vacuum Reference
Cap Adjustable Spring Pre-Load
TECHNICAL DRAWINGS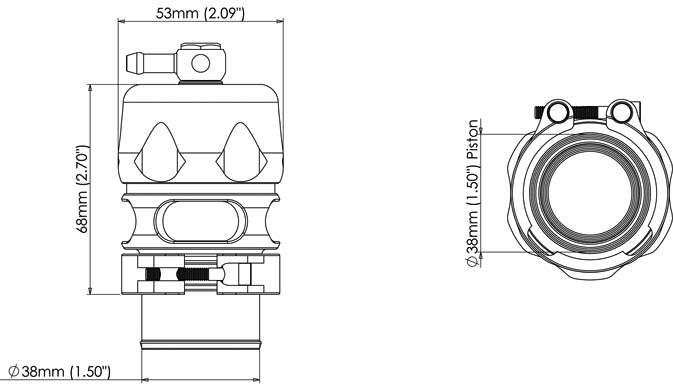 SUPPLIED WITH:
VeePort Pro Blow Off Valve
38mm alloy hose/weld-on adapter
Aluminum V-Band clamp
360 degree swivel vacuum fitting
White Spring rated -21 to -19 InHg (installed)
Turbosmart Decal
Payment & Security
Your payment information is processed securely. We do not store credit card details nor have access to your credit card information.